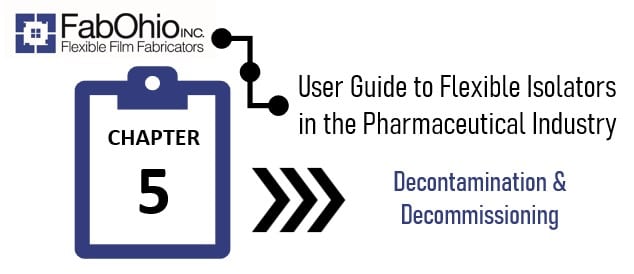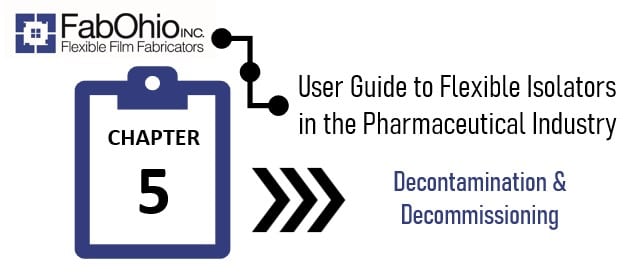 Congratulations! By using your flexible isolator to enclose your process you have already eliminated the need to decontaminate your processing room after every process step, which also means that you have minimized collecting wash-water for disposal. Turn-around can be accomplished in minutes, returning the area and equipment to service quickly.
In general, many highly potent drugs have been shown not to be biodegradable which means contaminated water has to be incinerated. Chemical destruction is also not practiced because the investment to determine the toxicity of the by- products is too costly. For these reasons the use of a mini-room (flexible isolators and enclosures – a room within a room) is extremely cost effective in time and resources.
If there is freestanding liquid inside the enclosure it can be soaked up with cat litter.
Removal of the enclosure begins with safe withdrawal of reusable items through a bag-out sleeve or a glove-sleeve using the twist, tie, tape, cut, and tape over the stubs. This can be performed after particulate encapsulation (below) if they cannot be washed under water or solvent.
The enclosure is released from the support frame, enclosed air escaping through the HEPA filters - this can be accelerated using a low suction vacuum not exceeding 1 cu.m/minute (the test flowrate for the HEPA filter). The enclosure can now be folded and secured in a burn drum.
If the enclosure is to be breached before drumming for shipment, it will be necessary to encapsulate any particulates inside the enclosure.
The principle of the procedure was first developed in 1993 and has been used safely world-wide. A cloud of water droplets is introduced into the flexible enclosure to encapsulate the particles to the internal surface.
As a result of Covid, the method for safely encapsulating all particles (including nano-particles) improved with the development of Ultra Low Volume (ULV) Nano- foggers which emit a nano-spray of pure water (deionized, distilled, or purified water having a high surface tension). Alternatively, a two fluid artist spray gun having a small reservoir for pure water can be used.
The fogger tip is introduced to the inside of the collapsed enclosure through a small opening such as a cable pass-through. The encapsulation spray is released into the enclosure creating a dense cloud of fog, stopping before the enclosure is fully enlarged with air. Less than 1 cc of water is required which will not contribute to free-standing water because it will evaporate out through the HEPA filter(s) during storage and shipping.
After resting about 1 minute, the enclosure can be collapsed and folded before placing in a designated burn drum. If the enclosure is already attached to a fiber drum it can be collapsed into the drum for disposal. It remains for Environmental Services to collect and document the burn drum for safe disposal.
Written by Brian Ward, PhD, CSci, CChem, FRSC