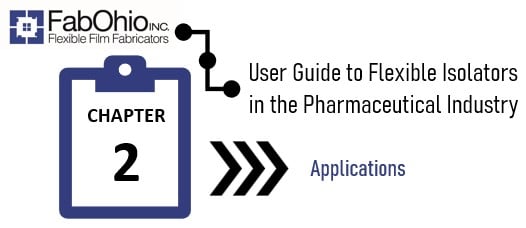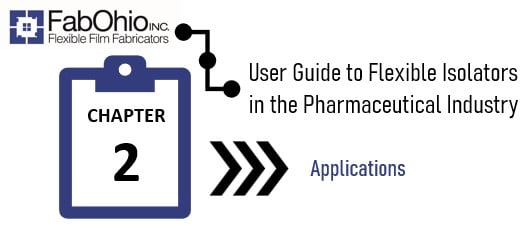 There are many reasons to use flexible film isolators in the Pharmaceutical Industry across the entire range of operations from discovery to final product shipment. The primary reasons begin with worker protection and minimizing cost. As the user quickly discovers there is added benefit to this approach when the enclosures prevent materials egress and ingress.
This solves a major Quality Goal, i.e., excluding cross-contamination without major impact on facility operation such as controlled ventilation zones. Controlled isolation requires procedural monitoring. The most frequent Agency findings are inadequate records surrounding operator training and diligence, and building operations such as frequently and adequacy of ventilation and HEPA filter testing.
While there are many applications for flexible containment and isolator systems, in FabOhio's experience we have seen categories that can be best described as the following:
Pharmaceutical Manufacturing - Flexible isolators increase Operator safety and product containment with the introduction of new equipment or manufacturing processes as well as retrofitting established equipment and facilities.
Pilot Plan Containment – Flexible isolators provide quality assurance when retrofitting existing small-scale facilities and equipment with added cost and time savings when leveraged in high turn-over/multi-functional spaces.   
Laboratory Containment – Flexible isolators enhance the traditional laboratory setting by offering elevated product containment feasibility and convenient cleaning/disposal options.
Utilities Containment - Flexible isolators make equipment maintenance and cleaning simpler procedures since they can be rapidly fabricated, at low cost, to fit almost any challenge.
Flexible enclosures allow operators to monitor and adjust process controls externally while frequent materials sampling can be conducted within the same enclosed space and distributed using bag-out procedures. Minimal documentation may be required by Quality to satisfy Regulatory Agency needs for data. This is as minimal as internal pressure measurement in a material pass-through using a slack tube manometer or mechanical manometer.
The added benefit of processing within a closed internal space is that accrual of waste materials is in isolation and without air dispersion which means less cleanup time and elimination of excessive cleaning waste and time, minimizing environmental issues.
Often overlooked is ready acceptance by technical support such as instrument technicians and maintenance workers whose jobs entail process line breakage on a regular basis. In-process sensor calibration involves process line breakage just as much as piping changes. Simple mobile carts having all sensor calibration capability is a shareable asset within a facility, while freestanding enclosures surrounding processing equipment delivers an entire workspace in which major equipment can be broken down and rebuilt, eliminating transport through a facility which risks materials release along the path.
Vessel entry such as exhaust duct cleaning is readily accomplished using a flexible access chamber having integral clothing, decontamination, and disrobing divided zones. Similarly, an extended isolation zone can be added to a laboratory to allow for downing/degowning in the access hallway.
Laboratory procedures lend themselves well to simple but effective isolation barriers frequently enclosed within exhaust hoods which elevates the containment performance from Containment Zones 1 & 2 to 4 or more without other changes.
Summary: Containment + Isolation of materials throughout the entire product life is a business demand which is critical to the financial future of large and small Pharmaceutical Manufacturers and Suppliers.
While performing the mandated Hazardous Materials Review for Laboratories, Manufacturing, and Distribution pathways, use the opportunity to turn the documentation process into a business advantage by examining all potential materials release opportunities. Once potential events are identified and prioritized, management can then decide on potential risk and opportunities to enclose those risks using an economical business risk evaluation. The financial burden is managed proactively in response to both the HAZMAT and RiskMAP mandated procedures by turning them into your business advantage procedures.
Using such an approach has enabled potentially high-risk problems to be solved proactively leading to earlier market penetration using the clear advantages of rapid cost-effective containment/isolation flexible enclosure concepts. FabOhio Inc. is the foremost provider of unique cost-effective containment solutions to the Pharmaceutical Industry, having been the first Company to introduce the concept to the industry in 1963.
The concept is simple - expose and control your risks during your business planning. The solutions are not complex or costly and are only limited by the imagination of your professional and operational staff and any experienced consultants you may interact with.
Written by Brian Ward, PhD, CSci, CChem, FRSC