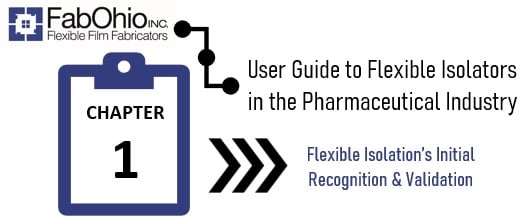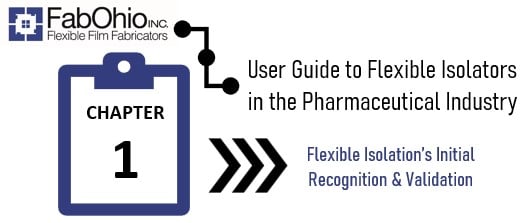 In less than 40 years, flexible barrier isolation has moved from a forbidden concept to a primary means of containing potent and allergenic Active Pharmaceutical Ingredients (API's). The evolution was slow and deliberate based on one Company's needs in 1993. With a major investment ($157 million) in a Bulk Manufacturing Facility for a new potent compound, the expectation was to use existing technology (rigid Gloveboxes) as practised in the Nuclear Industry.
What risks were taken in the first venture?
Flexible films such as Low Density Polyethylene (LDPE), And Linear Low Density Polyethylene (LLDPE), were available from the time that the Manhattan Project began in earnest. These were joined by Polyvinyl Chloride (PVC), Polyvinyl Alcohol (PVA - the water-soluble plastic), and polyurethane (PU). Each brought different attributes to deal with such things as strength, temperature stability, and chemical resistance.
In the early days of the Nuclear Industry the Engineers and Health Physicists were quick to add Flexible Film solutions for handling radioactive materials. The Health Physicists used ⍺, β, and Ჾ energy meters to monitor emissions, giving them a sensitivity of >106 greater, (1993) and currently 100 times better than that available through chemical analysis. This explains why the Pharmaceutical Company felt comfortable working with FabOhio, Inc. who had been supplying Flexible Containment Solutions to Nuclear and Heavy Industries since 1963 as approved providers of design, fabrication, and operations support. Add to this the knowledge that Flexible Barriers were the primary technology used in commissioning and decommissioning mobile Nuclear Systems, e.g submarines, lent credibility to such extreme waste handling capabilities.
LLDPE became the reference material for EMA and FDA when performing product contact stability studies. FabOhio, Inc., with 30 years of business based initially on PVC films and later PU because of superior tensile strength, temperature stability, and chemical resistance over all other films. This proved to be the miracle needed since it had all of the features that made it acceptable in instances where LLDPE was already favored by the Regulatory Agencies. With less additives to the PU film formulation than LLDPE, meeting the newest Regulatory trace contaminant criteria since all of the additives are on the approved list.
Although 7 Gloveboxes were ultimately used for operations like charging and packaging when vessel support was required, over 80 flexible isolator designs were developed in cooperation with FabOhio, Inc. to enclose multiple sources of fugitive emissions.
The outcome was a CLEAN FACILITY proven by over 6 years of monitoring continuously. By maintaining an emission-controlled facility, the employees worked in shirt sleeves, which was confirmed through the annual personal monitoring program. The company saved budget on purchasing, shipping, disposal, training programs, and use of protective clothing. They also saved by having no process downtime due to materials release and cleanup.
In fact, Flexible Isolation resolved the cost and professional effort required to meet Quality (no materials migration in or out of the equipment, rooms or facility), OSHA (compliance with all chemical exposure aspects of CFR 21), and Environmental (no spills, no cleanups, and total waste control) Regulations. Satisfying operator concerns over handling of hazardous materials, I.e. they are sufficiently trained and educated that chemophobia does not arise., is an often overlooked benefit.
The outcomes of introducing Flexible Solutions was shared across the Industry as the project evolved through sharing of performance data. From 1994 through 1997 formal presentations at ISPE Conferences in the US and Europe created a demand for an entire supply service spear headed by FabOhio, Inc. who delivered solutions with proven performance enabling outdated facilities to function in this new environment.
Whether your company is in a position to rehabilitate existing technology and/or equipment or looking to start a new operation, the team at FabOhio, Inc. would like to share the many benefits flexible isolation can provide.  Starting from your company's initial recognition for the flexible containment project, our team can support every step of the way through project design to installation.  Contact Us today to get started on your next flexible isolation project.
Written by Brian Ward, PhD, CSci, CChem, FRSC